Anthony Beal, is a WSET3 advanced wine scholar and gym rat who never met a shrimp or mussel he didn't like. He is a member of the Association of Food Bloggers and the Society of Wine Educators, and looks forward to eating his way across Japan in the near future. To learn more about Anthony, visit his food, wine, and spirits blog FlavorfulWorld.com.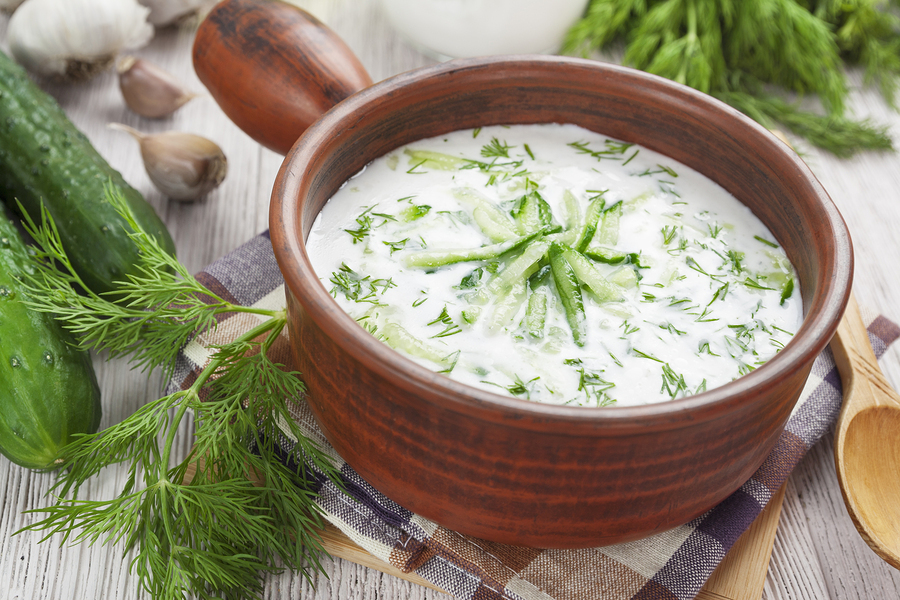 So, you're not yogurt's biggest fan, but you're among the swelling legion of people seeking to adopt healthier eating habits. The fact that yogurt is good for you doesn't help its image in your mind, but you don't do quinoa, and you're familiar enough with yogurt's obvious nutritional benefits that you're ready to give it another chance.
To assist that laudable endeavor, here are a few creative ways to ease into making it a regular part of your diet. Each one is designed to help you begin slowly by introducing it into your cooking routine in ways that are unexpectedly delicious, yet subtle enough to please newcomers. As for those who already love yogurt, here are a few ideas for working it into even more recipes.
1. Tenderize meats in it
Lactic acid and live cultures present in yogurt help to make meats more tender and juicy when it's used as a marinade. The reason this works is that the yogurt's calcium-richness activates enzymes present in the meat that break down its proteins. Adding spices and seasonings to the yogurt marinade will transfer those essences into the meat, leaving your finished dish full of flavors apart from yogurt alone.
Another benefit of marinating in yogurt is that it clings to the meat during cooking, caramelizing to form a delicious crust that seals in juices and flavors. Marinate firm-fleshed cuts of poultry or red meat for periods ranging from
a couple of hours to overnight
.
2. Use it to replace high-fat ingredients when baking or even in pancakes, waffles, etc.
Measured properly, plain yogurt makes a healthy substitute for butter, shortening, sour cream, or even milk or water. It's a tasty way to reduce calories without having to forsake your favorite baked goods.
3. Replace mayonnaise in cold salads and slaws (chicken salad, pasta salad, broccoli slaw, etc.)
Plain yogurt adds the benefit of lending its own expressive flavor to the mix in a way that complements a wide variety of other ingredients like dill, lemon, sweet apples, and grilled or smoked meats. It not only surpasses what one-trick pony mayonnaise brings to the table, but avoids mayo's much higher fat content, making for a dish that's healthier and more robust-tasting.
4. Thicken soup or stew
Sure, you could achieve the same end by using flour, but a dollop of plain yogurt added to a soup or stew is an easy (not to mention lump-free) means of achieving a thicker, richer consistency while adding subtle flavor complexity unmatched by flour or other starches.
5. Make Sauces/Dips/Dressings
Swapping out milk,heavy cream, or cream cheese for Greek-style plain yogurt in your next batch of salad dressing, guacamole, or creamy pasta sauce will awaken unforgettable taste sensations in barely-detectable fashion that won't leave the finished product tasting yogurt-heavy. Try mixing it up with honey or citrus elements for a sweet sauce, or with grated, low-fat cheese and fresh herbs for a savory dip that excites the palate without weighing it down with calories.
6. Make Yogurt Cheese
This one sounds more difficult than it is. You'll need some cheesecloth and a large bowl, but once you set it up, gravity does all the cheese-making work for you.
The
preparation
couldn't be simpler: Empty a container of yogurt into a colander lined with several layers of cheesecloth that is set inside a large bowl to collect the yogurt's liquid component (whey). Refrigerate overnight, and you'll awaken to find the drained yogurt solids have taken on a cream cheese-like texture. At that point, you can mix into it some cracked black peppercorns, a splash of your favorite wine, some red pepper flakes, a dash of
Herbs de Provence
, or any favorite spices and ingredients to give your cheese the proper kick.
7. Make Creamed Veggies
Plain yogurt is an exceptional substitute for heavy cream or milk when whipping up a pot of creamed spinach. Add a dash of Indian spices and a pinch of salt; these results carry over nicely to other creamed veggies like corn and sweet peas. Whisking some yogurt into a pot of simmering lentils with tomato sauce, lowfat coconut milk, and za'atar or other Middle Eastern spices makes for a tasty, expressive dish that will look and smell like you went to great lengths in preparing it.
Now that you're equipped with these great meal preparations that rely on yogurt, aren't you ready to take the next step and try a few? Why not consider using homemade yogurt from your own kitchen?
to find one that's perfect for your needs.